Many of us have travelled a common path along with the dreaded C word and if we look back at our journey – our travel stories can help light up the dark alleys for the current passengers, and also provide hope & inspiration for them to script their own success stories! 
In March 2010, it looked like "doctor karma" knocked at my residence, for economic help! Within a matter of 10 days, my husband had undergone angioplasty after a massive heart attack and I was diagnosed with breast cancer – for a family that hitherto, had seen the family doctor once or twice a year, for common colds & fever, this was a huge & unanticipated increase in medical spending! Never did my husband and I feel more like an "Ek Duje Ke Liye" Jodi 😊 (made for each other). Fortunately for us, all went well and we are able to look back, talk and laugh about it, together! 
As a survivor then, what does "cancer" mean to me, today?
Top notch medical research all over the world, works overtime to provide us with moves to reduce, if not eliminate genetic & lifestyle risk that prove to be an open invitation to cancerous cells to multiply within our bodies. Rapid advances in nouveau therapies make one feel very bullish on better & more effective modes of treatment that would soon be available globally, to further enhance the capabilities among the medical professionals – be it the surgical, medical or radiation oncologists. 
Technology acts as a catalyst to speed up medical research and with the availability of AI & robotics, things augur very well for the future. 
What remains to be seen, however, especially in a growing economy as India, is the accessibility of such cutting-edge advancements to the folks in Tier 2 and Tier 3 cities. Cancer hospitals, as we all acknowledge, are way too little, to cater to the demand and when filtered on affordability, even fewer to choose from. 
In addition to such medical facilities, we as a society need some advancements and an "opening" of minds as well. Social stigma is still very much a part of our society – people suffering from cancer are isolated both physically and emotionally, even by their own families, right from the diagnosis, through treatment and even post-treatment. There is a compelling need for awareness that cancer is not an "infectious" or "contagious" disease – isn't it ironic that the same people are open to being a passive or active smoker, but would shrug their shoulders if told that someone is suffering from cancer? Why do the paediatric & the young, suffering from this disease, have to worry if they will have a normal place in society? Why do parents worry that their young daughters, who have survived cancer, may not find willing marriage partners? Worse still, traditional Indian households look very unfairly at children, who have lost a parent to cancer…. Why do older patients worry that they will be displaced from their homes, if not villages, if their diagnosis is known to many? Besides awareness, it is imperative that we, as a survivor group, help in educating minds to remove some of the myths and superstitions associated with cancer. I am sure we may have heard stories within our own families and may have even dispelled some of them by our sheer existence. Broadminded employers required – to employ survivors as equal opportunity providers! However, we all know and understand that cancer is not fought within the four walls of hospitals and medical units alone. Those dealing with cancer require support on the medical, physical, mental and emotional front. Many of us are lucky to take refuge in our family & circle of friends. Let us spare a moment to think of those that do not have such luxury! How would we have managed in such a scenario? Would our perspective have been very different? Can hospitals provide more than medical and physical help – perhaps counsellors available on tap to patients & caregivers while in the premises, can continue their support even post-treatment? Kudos to all our families & friends for their support, without which our journey would have been that much more difficult! In fact, I recall many friends reaching out to me after a gap of several years, to provide overwhelming support – it was very touching to say the least. Shouldn't we in turn, return the favour? 
"Survivor" is a magic word in the cancer saga – the closest that one can get to a perfect score, in some sense? The relief within ourselves & our near and dear, is unimaginable – we are tempted to stand up on a hill and shout out to the air around us – we have finally been able to breathe free & stand tall. Let this spirit remain undiminished through our journey down the hill and across the plains – when the euphoria settles, we are now faced with the new "normal" – whether due to physical or emotional changes and simply also with the passage of time! During the struggle in overpowering the cancer & concentration on our own selves, many of us may have lost track of time & may have delegated our responsibilities, both on the personal front and at the workplace, temporarily, to available help & resources. Often, it may be challenging to get back to the changed circumstances – it is not uncommon for survivors to feel physically and emotionally drained! Until yesterday, they were being waited on, hand & foot and suddenly today, they are left alone, to deal with their success after surviving cancer. This is where hospitals & medical professionals who treat them, could perhaps allow some space & time for survivors to reconnect and seek advice and counselling to regroup their lives, alone, on their terms and with their heads held high. Confidence to return to a normal life and fight the devil in the mind that props up the question of cancer recurrence every once in a while, is as much a part of the cancer treatment as anything else! 
A survivor has every right to return to the quality of lifestyle he/she enjoyed and to be proud of the battle fought! Let us do with confidence, humour & style – there is no dearth of information on the dark side of cancer, let us be on the "lighter" side. Many women survivors sport a shorter hairstyle post cancer, with style and purpose! My grey hair is testimony to my own battle with cancer – post the battle, it has helped reinforce my honesty, transparency and hopefully, some wisdom 😊 at first shot! 
Cancer is only part of our life story and therefore, survivors can reboot from the exact stop at which they left off, in their careers. Surely, they can expect the support of their co-workers, bosses and employers as they transition into the new normal and reach and outperform their successful best. Again, awareness that we can emerge from the shadows of cancer into the bright light, with renewed zeal and vigour, has to be reinforced by each and every one of us, both for reassuring ourselves and those around us. 
While we rejoice as survivors, let us remember that anything enjoyed responsibly provides even further enjoyment! Let us take on some of that "good citizen of cancer" responsibility and support those coping with cancer and the huge background cast of those providing the much-needed care and love to those going through the ordeal! 
We may each have individual stories with varying degrees of turmoil and despair, we need to remind ourselves that we have had the luxury of education, more than average financial strength and most importantly, family and friends that have helped us emerge as victors, "stronger than cancer"! 
Giving back to society is very special and even more special, when we give back to the cancer community – we at Indian Cancer Society, pride ourselves in helping those that are not so privileged in obtaining information & awareness about cancer, having a reasonable chance for early detection through screening camps, coping with the emotional aspects while undergoing the treatment and being helped with some financial assistance to kickstart the treatment immediately! We welcome you to be a part of our vibrant group – together, we can achieve much more!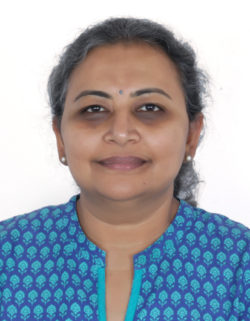 Sujatha She started her journey at the Bengaluru Branch in 2014. With more than 28 years of professional experience in industry, management consulting and tax advisory, she looks after the Finance, Accounting & Compliance function at Indian Cancer Society and is Hon Treasurer with them. For more information https://www.indiancancersociety.org/

She is a Fellow Chartered Accountant and MBA from Georgia Tech, USA. She is engaged with other NGOs in her professional capacity and a wholetime Director at Crestworth Management Partners Pvt Ltd, Bengaluru. Besides work, she is passionate about cooking, keeping in touch with people and listening to music.