I lost my elder sister to breast cancer. I can only imagine the pain my parents had felt when her dead body was brought to the house for a final goodbye. Those days I was abroad on a research assignment and it was not easy to make an emergency visit just like that, so I was not around to witness this unimaginable loss for my entire family – especially my parents. I kept wondering why her? She was always an epitome of beauty, grace and benevolence for me. As a younger sister of hers with a background in science, I was restless because I failed to understand – why her? When my mother or her mother did not have cancer? Why her? This question kept on bothering me and I kept reading to find out why and how? I know that many of you are also bothered by the same set of questions and that is why I am writing this post to express my perspective on the topic with the hope that it will be helpful.
Can breast cancer be inherited?
No. breast cancer is never inherited but genes that increase susceptibility or risk of developing breast cancer can be inherited. But those also make only 5 – 10% of the total breast cancer incidences around the world.BRCA1 and BRCA2 are the two genes that suppress malignant tumors in normal person. However, when these get changed or mutated, they stop their function of suppressing tumors or cancer. So, people with BCRA1 and BRCA2 mutated genes have higher risk of getting cancer of just not breast but also of ovaries. It is the mutated form of these genes which when inherited may increase the risk of developing breast cancer. Even with the mutated form of these genes, some people do not develop any form of cancer at all in their lifetimes.
Researchers have found that it is a complex interaction of many factors that are genetic, environmental as well as hormonal which results in cancer. Men can also be affected. Yes, that is true. Men with mutated BCRA2 gene have higher risk of developing cancers (testicular, prostrate and pancreatic) including the breast cancer. Cancer is actually an inherent defect of genetics which are influenced by environment and lifestyle.
I recommend to the readers that if they have a strong history of cancer in their family, they should consult a doctor to understand the level of risk they have for developing cancer. My sister did not have a chance to fight but one has a good chance to fight against cancer if detected early.
I found my how and why answers long back but as a younger sister of hers the why HER still remains unanswered.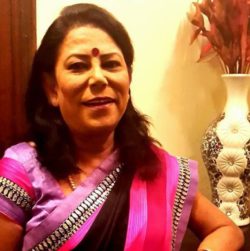 M.Sc., Ph.D., DAAD Fellow.
She started career as an Asstt. Professor (at CSA University, Kanpur) where she taught undergraduate, graduates and Ph.D. students. She worked at various organizations and university in different capacities. She was the Head of Amity Institute of Pharmacy. She has published many scientific research papers in referred journals and presented papers in International and National seminars and workshops. Her work has been acknowledged and appreciated by her mentors and senior professors. Her last position was Principal of Vedanta Girls Post Graduate college Rajasthan and Kolkata. Besides work, she is passionate about cooking and listening to music.