I am Mrs. Champakalakshmi Nagarajan born in Chennai in a middle-class family. We were six siblings – two sons & four daughters.  We were brought up with strict discipline & grew up without any problem.  Academically I was a good student & made my parents & teachers proud. I studied Hindi Literature & worked as a Teacher in Chennai. I was & am a very fond of classical music & also Hindi film music. After my marriage I shifted to Mumbai. My husband never wanted me to work, so I stayed at home & brought up my two children-the first one a boy Ramesh & the second a daughter-Sujatha, but things took a bad turn in the year 1981- where my husband suffered due to Hepatitis B & expired. Life stood before me like a Question Mark. The children were 16 & 12 years old & the responsibility of running the family and providing them good education fell on me.  However, the Central Railways where my husband was working were kind enough to employ on Compassionate grounds. Thus, I started working for Railways. I started as a clerk. 
When I thought I could manage, life took a deadly turn on me and on October 1992, I was diagnosed with Breast Cancer. A disease that I did not imagine I would have. I was disheartened, sad and dejected and did not understand what to do but believe me those feelings were temporary as I was a fighter and I had to take care of my children – I had to live for them. I was operated on in December 1992 and I am proud to say that I fought back my cancer and am a breast cancer survivor.
After the mastectomy I was worried to return to my office like a normal person – not having to deal with people's unwanted curiosity about my physical appearance and dealing with considerably superficial sympathies from everyone. Thus, began my struggle to find a right breast prosthesis. It was very difficult in those days to find options on breast prosthesis. I am aware that it is still somewhat the same even today. 
While breast cancer cases are growing in number in our country there is an urgent need for counselling the survivors to use the prosthesis so as to avoid embarrassment to them socially.  Due to the lack of balance physically there is a possibility of stooping among some survivors. This can be avoided and can give strength both physically and mentally by wearing a prosthesis.  However, every woman is unique and needs a breast prosthesis that suits her, not too heavy to wear and is comfortable. I feel that breast prosthesis should be catering to women survivors in a more personalized way.
In order to keep our women survivors, lead their normal lives with their families, manufacturing prosthesis & making them available to all survivors at minimal and affordable prices and free for people who cannot afford it.  During my time I got the first set of silicon prosthesis which lasted for some years, after that I could not get them & had to manage with sponge stuffed ones.  Our Government & women welfare organizations should take up this issue & arrange to manufacture them in India & help our women survivors live with dignity & confidence.
As for me as a breast cancer survivor, I really worked hard and studied for the departmental exams & cleared them in the first attempts & worked as a section officer till January 1998. I got both my children married & both are well settled with their children. I am now 80 years old & thank God for giving me the strength to fight all odds in my life. Today I am reasonably healthy & independent.
Life has not been a bed of roses for me but it has taught me to be strong & steady at all times & accept things as they come my way.  I have no regrets about what I lost or what I could not get, I am happy about what I am & whatever God has blessed me with.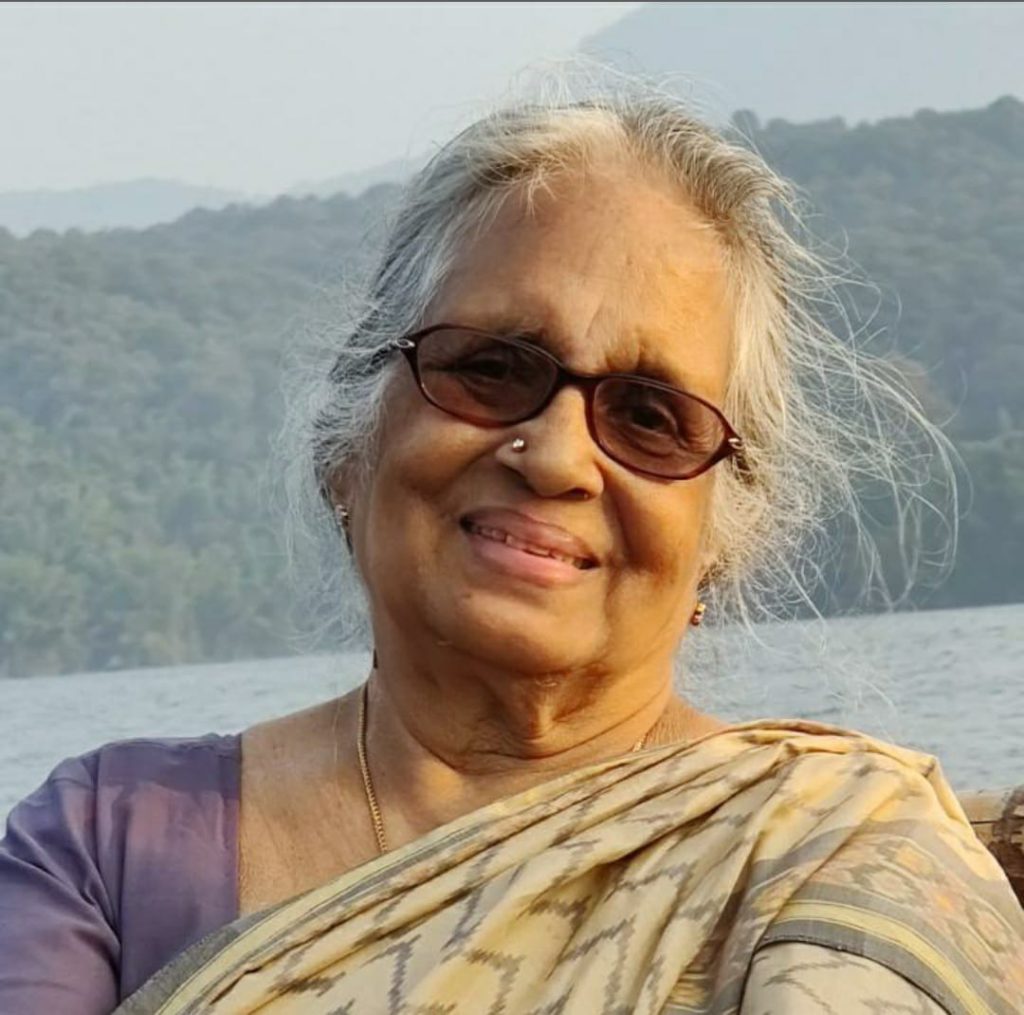 She retired as a Section Officer from Central Railways. She is 80 years old and believes age is just a number and one enjoy life as much as one can and should be thankful in whatever life has offered them. She lives with her son and his family in Mumbai. Besides that, she likes to listen to classical music and enjoys Hindi film music.