Mrs. Faith Penumaka's story as a breast cancer warrior inspires you to have immense faith in God and the power of smile as she believes that a smile can take away a lot of worries. Read her story to know more about her journey.
One must live a life full of dignity and accept how it is – is my mantra (motto) and I truly believe it in.
I was a teacher in primary school, loved every bit of my work and the children. It gave me immense joy and fulfilment to do what I loved to do – shaping the minds of toddlers for a brighter tomorrow. I have always enjoyed the smiles and the innocent questions of these children whose mind is never at rest. I had to sometimes come up with some innovative answers just to keep them happy.
It was one of those usual morning in the month of February 2005. I finished my household chores and while taking my bath, I realised that I have a lump on my right breast. I went to see my doctor immediately and it was confirmed that I did have a lump on my right breast. My doctor suggested that I should have surgery within a week. I discussed it with my family about my breast cancer. They were all shocked. I realised that my husband was very quiet and did not utter a single word. My daughter gave me a hug and said that she would be waiting for me outside the operation theatre.
I prayed to God for my operation to go well. I have always been an ardent follower of my Christ. I believe that my God knows what is best for me and so I have surrendered to him ever since my childhood. It was no different on that day of my operation too. I told my doctor that I know my Christ will save me and I totally believe in him. She was very happy to hear that and said that in her life she has not met any person who is so full of life and confidence. After a few hours of my surgery when I came back to consciousness, I saw my husband and daughter waiting for me in my ward. It was one of the most rewarding sights to see your family waiting for you in one of the toughest times of my life.
I was advised to take chemotherapies without radiation. So, I underwent some 6 chemotherapy after my breast cancer surgery. I was 64 years of age back then in the summers of May, 2005. I realised that because of my chemotherapy I had started to lose hair. My husband was quiet all these months, but suddenly when he noticed my head one day, he was very upset and got a little annoyed to see this change in me. I realised that he was not able to take it very sportingly. He was angry and upset to see me like this and since he found it difficult to express his pain, he either would be silent or get upset about breast cancer, he did not want to lose me to this disease after all we fell in love and were married for some good number of years. He started having some medical problems because of suffering in silence. However, he was always very supporting. I must mention that more than me his joy knew no bounds to see my hair grow after my chemotherapy. I was suddenly having curly and shiny hair which I normally never had. I was very proudly flaunting my curls back then but later these curls became straight like my own hair.   
During my fight with breast cancer I must mention that I had immense support from my family and friends. One of my friends kept me in her house for a month, taking care of me as both my daughters live abroad. 
I love to dress up and love wearing sarees but initially found it very difficult after my surgery to find a breast prosthesis. It took me good 4 years to find one. I did not find anything suitable in India and had to ask my sister who lives in the USA to get me one. It took her awhile to understand the problem of a mastectomy survivor to find the right prosthesis. She got me one from the USA which was quite alright for me to wear my t-shirts and sarees again. I must mention here that since my right breast was removed, it was very difficult to wear a saree as the pleat of the saree would not sit properly. Also, I am aware of the medical complications that my body could have if I did not wear a prosthesis. One suffers from balance issues, gait formation and many more complications. So, to avoid them I was always using a breast prosthesis but yes, it is very difficult to get a correct fit that suits a body of a woman as each and every woman's body is different.
I am 74 years now and I live my life to the fullest and I am thankful to God, my friends and family who were always there with me. I go out with my friends regularly to enjoy a nice cup of coffee. We were 3 friends who started crochet embroidery and used to sell our products. The money that we collected was given to the cancer patients to support them in their journey. Unfortunately, one of my girls is no more.
Today, I have shared my story with a belief that one should have a lot of confidence in themselves and have faith in God to take them out of some tiring situations. Keep smiling as I believe a smile can take away a lot of worries.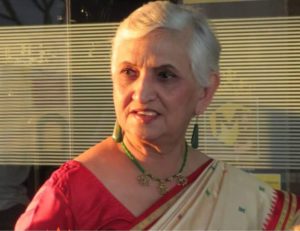 Mrs Faith Penumaka is a retired school teacher. She is a proud mother of two daughters and 2 grandsons. She is a volunteer in an age home in Camp, Pune where she spreads her knowledge and immense love for God. She loves to cook and welcome people to her house to try her food, especially her speciality dry fish pickle. She also continues to do the crochet embroidery whenever she gets time. She is also a part of 'BreastFriend' group where she shares her experience as a breast cancer warrior.