Dr Nanda Rajaneesh's article talks about how a woman can identify whether she has breast cancer or not.
As such 13 % of women are prone to breast cancer in life time just for being women. There are many risk factors which increase the incidence of breast cancer like hyperestrogenic conditions, fibrocystic disease of the breast, Vitamin D deficiency, unhealthy diet, sedentary lifestyle, family history etc. These high-risk factors increase the incidence of high-risk cells in the breast glands which can get promoted into atypical cells and then to breast cancer by mutation. In presence of these risk factors one much keep a constant check of once health.
As such 13 % of women are prone to breast cancer in life time just for being women. 
As there as many modifiable risk factors one can prevent the development of breast cancer by diet modification containing good intake of legumes, vegetables, and decreased intake of processed meat and dairy products. Moderate physical activity on day to day basis. In presence of family history of breast cancer regular breast check-up has to be done. The screening modalities for high risk patients for breast cancer being self-breast examination on a monthly basis. Looking for warning signs of breast disease like breast lump, nipple changes, discharge from the nipple, pain in the breast. In presence of any of the warning signs examination by a physician needs to be done.
In presence of family history of breast cancer regular breast check-up has to be done.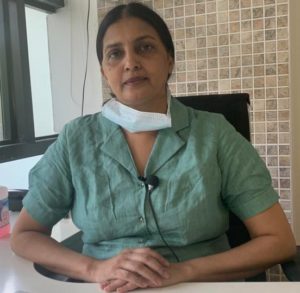 MBBS, MS, MRCS(Edinburgh), AFCRSI(Colorectal); FICS, FAMS Fellowship in – Fellowship in Bariatric surgery from St. Nicolas Belgium, Fellowship in Pancreatic surgery in Heidelberg, Fellowship in Research ethics Harvard: An eminent surgeon, endowed with rich and diverse experience and distinguished academic record, has established herself as a Specialist in Breast surgery, Minimal invasive Gastrointestinal surgery (Laparoscopy) and Surgical Oncology.
She has acquired many degrees through extensive training in surgical field and is member of royal college of surgeons. She has also trained many surgeons in medical institutions, technical skills to many surgeons in the country through workshops. Her keen interest in Cancer Surgery prompted her to seek further specialization and training in GI Surgical Oncology from the prestigious Tata Memorial Institute Mumbai and from Heidelberg University Hospital. She worked in breast cancer Unit in Tata hospital Mumbai. Dr. Nanda, constantly sought to upgrade her technical knowledge by updating herself with the latest courses and Fellowships such as Laparoscopic Surgery, Micro-vascular Surgery, Colorectal Surgery and Surgical Oncology.
Dr. Nanda has extensively involved in treating breast cancers and bringing awareness on breast cancer prevention. In her 20 years of extensive service. She has performed more than 15000 surgeries. Her approach to breast cancer involves understanding patient problems and counselling them to accept the particular issue related to breast cancer. She has many publications in indexed journals.
Present positions:
⦁ Consultant GI surgery & Breast surgery, Apollo Spectra Group, Bangalore
⦁ Consultant Bariatric surgery & Breast surgery Sakra world Hospital, Bangalore
⦁ Medical Director & Adviser at Carer group
⦁ Board of adviser in Irrilac
⦁ Medical adviser 103T
Awards:
⦁ Selected as International travelling fellow from Colorectal Associations of India for a visit to Birmingham Heartland Hospital
⦁ Travel Award at International Gastrointestinal Conference in Barcelona 2005
⦁ Best teachers Award in Karnataka state 2013
Special Mention:
"Pink Hope" a book written by Ms.Beena on Breast Cancer journey of her mother and Sara the character is dedicated on her.
Contact Details:
www.drnandarajaneesh.com
(M): +91 9845090352