Fighting cancer and losing an organ in the process can lead to unimaginable mental stress for a patient. In this journey of theirs, it is important to acknowledge the caregivers too as they not only have to smile in front of them but also have to fight with their emotions during those tiring days. 
In this month of Breast Cancer Awareness, tune in to listen to Pradeep Chandraker, speak to our Co-Founder & CEO, Shilpi Sen on how his journey as a caretaker to his wife who was suffering from breast cancer was. He talks about how difficult it was to hear for the first time from a doctor confirming that his beloved wife was suffering from breast cancer and how he told her and the family. He mentions very interestingly that no matter how much one is educated and is in a high paying job but when one loses a part to a cancer especially women during breast cancer procedure, it's not easy for them and that personalisation of breast restoration i.e., breast prostheses or implants would help them to get back their confidence like before. He also mentions the importance of family support during those challenging times.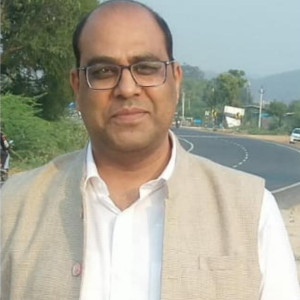 Pradeep Chandraker is a Mechanical Engineer and an MBA from Harisingh Gaur University- Sagar, Madhya Pradesh. He is currently working as an AVP Operations, NIFLUX Group (Nims group of companies) in Jaipur. He has a work experience of 27yrs in Lighting product Mfg and SCM and have worked with renowned corporate like Havells and Wipro. He is the youngest among his six brothers and one sister and looks forward to meet them during festivals. He is a doting husband and a father to two daughters.